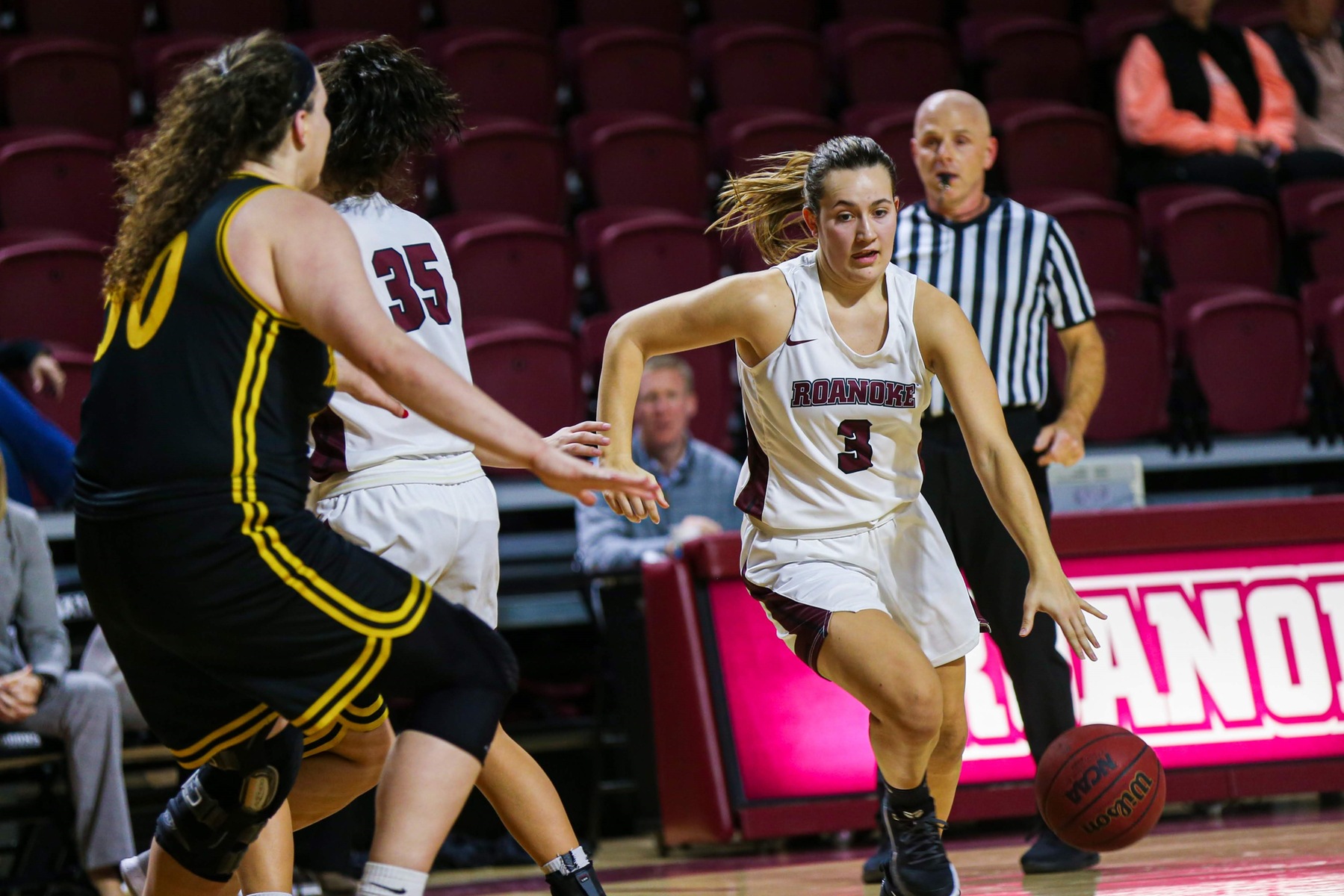 The Basics
Score: Roanoke 78 | Elizabethtown 68
Records: Maroons 5-3 | Blue Jays 5-3
Location: San Juan, PR
The Lead: The Roanoke women's basketball team traveled to Puerto Rico for the Puerto Rico Basketball Classic. The Maroons faced Elizabethtown in their first of two games. RC closed the game on a 10-2 run for the 78-68 victory.
How it Happened:
Roanoke raced out to a 7-0 advantage and after a Kayla Kinsler layup, pushed the lead to eight with 3:00 left in the first quarter.
The Blue Jays closed the period on a 6-1 run to cut the Maroon's lead to 15-12 after 10 minutes of play.
After Elizabethtown took their first lead, 26-24, Rose Sande scored four straight as RC retook the lead. Molly Hassell hit one of her three made shots from behind the arc, growing the lead to five with 4:00 left in the first half.
After the Blue Jays cut the spread to one, Kristina Harrel scored on a layup to close out the first half with the lead, 40-37.
Elizabethtown scored the first four points of the second half before a Roanoke surge would give the Maroons control. Whitney Hopson and Ayanna Scarborough led the RC run that culminated with a Harrel layup to make it 52-41 with 6:00 left in the third period.
The next three and a half minutes belonged to the Blue Jays as a 15-3 run gave Elizabethtown the lead that they would keep heading into the fourth quarter, 60-59.
In the final frame, E'Town would hold their advantage for the first four minutes before the momentum would return to the Maroons. Trailing 65-66, Scarborough scored an "old fashion" three-point play to put RC ahead for good.
The final five minutes would see Roanoke take firm control of the play, closing out the game on a 10-2 surge to win by 10.
Five different Maroons scored double figures led by Scarborough and Sande with 13 apiece. Hopson netted 12, Hassell scored 11, and Sayre Brandstatter added 10 bench points. The RC bench out-scored Elizabethtown 36-8.
Brandstatter and Renee Alquiza each grabbed seven rebounds with Hopson handing out five assists.
Up next: Roanoke will wrap up the two-day event when they play Illinois Tech tomorrow in San Juan.